21 septembre 2016
The Polish electric vehicle startup Varsovia Motor Company is now planning for a new long-range electric sedan to go into limited production sometime after 2018, according to recent reports.
The model will be pretty substantial if the company's figures are to be believed — an all-electric range of 215 miles; a petrol range extender that adds another 311 miles of range; 0–62 mph acceleration in under 5 seconds; and an extensive "mobile workplace."
Autoblog provides us with more info: "Where things really divert from the normal, though, is the car's emphasis on becoming a mobile workplace. The passenger seat has been removed to provide extra working space from the back seat, while the car will feature a built-in computer, tablet, mouse, and keyboard. Additionally, there will be two 19-inch screens that can be combined to make a single 38-inch screen. Also, the car will have sensors that will track the driver's heart rate, and will then adjust the vehicle's music and lighting accordingly. So while the automaker is unproven, one has to respect the somewhat unorthodox approach the company is taking to luxury motoring."
It should be noted here that initial production will apparently be very limited — only 50 or so units a year.
Read more: http://cleantechnica.com/2016/09/07/polish-startup-varsovias
More information can be found on the company's website.
13 septembre 2016
credit photo BMW
The new Chinese-market-only BMW X1 xDrive25Le iPerformance was unveiled recently at the 2016 Chengdu Motor Show, giving us one of our first looks at the company's plans for the plug-in compact luxury SUV market.
The model is being manufactured by BMW Brilliance according to a press release from BMW Group, and is compliant with all relevant requirements for the Chinese market.
The model features a 10.7 kilowatt-hour (kWh) lithium-ion battery pack, reportedly allowing for an all-electric single-charge range of 60 kilometers. Presumably, this figure relates to the relatively lax Chinese testing cycle.
The BMW X1 xDrive25Le iPerformance can reportedly be fully recharged using a 220V / 16A charging wall-box in 3.7 hours.
The press release states that, "the 1.5-litre petrol engine at the front axle is mated to a six-speed integrated manual/automatic gearbox and churns out a maximum power output of 100 kW with peak torque clocking in at 220 Nm. The electric motor at the rear axle, on the other hand, produces power up to 70 kW and can instantaneously deliver a peak torque of 165 Nm at start-up. Thanks to BMW's proprietary eBoost function, both power systems can provide a peak torque of 385 Nm allowing acceleration from stationary positions to 100 km/h in just 7.4 seconds with a combined fuel consumption as low as 1.8 litres per 100 km."
Read more: http://cleantechnica.com/2016/09/07/bmw-x1-xdrive25l
22 août 2016
'Lithium' battery capacity degradation is one of the main concerns of electric vehicle buyers and potential buyers. Since the resurgence of electric cars is relatively recent, meaningful long-term data on large battery packs is fairly rare. Only Tesla has battery packs with a capacity higher than 30 kWh on the road in any significant number and they only have been in operation for a few years (Roadster aside).
But a few Tesla owners have accumulated impressive mileage on their vehicles and the data provides an interesting look into potential battery capacity degradation.The electric vehicle advocate group, Plug-in America, is always independently gathering data on Tesla vehicles, especially through its Model S Survey.
The organisation added a few entries in the past months and now has data on close to 500 Tesla vehicles with a total of over 12 million miles driven.
Data shows that the Model S' battery pack generally only loses about 5% of its capacity within the first 50,000 miles and then the degradation significantly slows down with higher mileage. Plug-in America's data shows several vehicles with over 100,000 miles driven and less than 8% degradation.
Here's the chart for reported battery capacity versus miles driven for each of the vehicles in the Model S survey:
Battery capacity can be affected by several factors like frequent full capacity charging, periods of time uncharged and fast-charging.
Plug-in America's data also shows that replacement rates for major components have significantly improved:
The early data is encouraging, but furthermore. Tesla is still working on improving its battery pack and cell technology. The company entered into a research partnership with Jeff Dahn's battery-research group at Dalhousie University. Dahn specializes in li-ion battery cell longevity, which should be very helpful in achieving high mileage on battery pack with little capacity loss.
CEO Elon Musk once referred to a battery pack Tesla was testing in the lab. He said that the company had simulated over 500,000 miles on it and that it was still operating at over 80% of its original capacity.
Featured image: Reuters/Lucy Nicholson and other images via Plug-in America
Read more: https://electrek.co/2016/06/06/tesla-model-s-battery-pack-data-degradation/
11 juillet 2016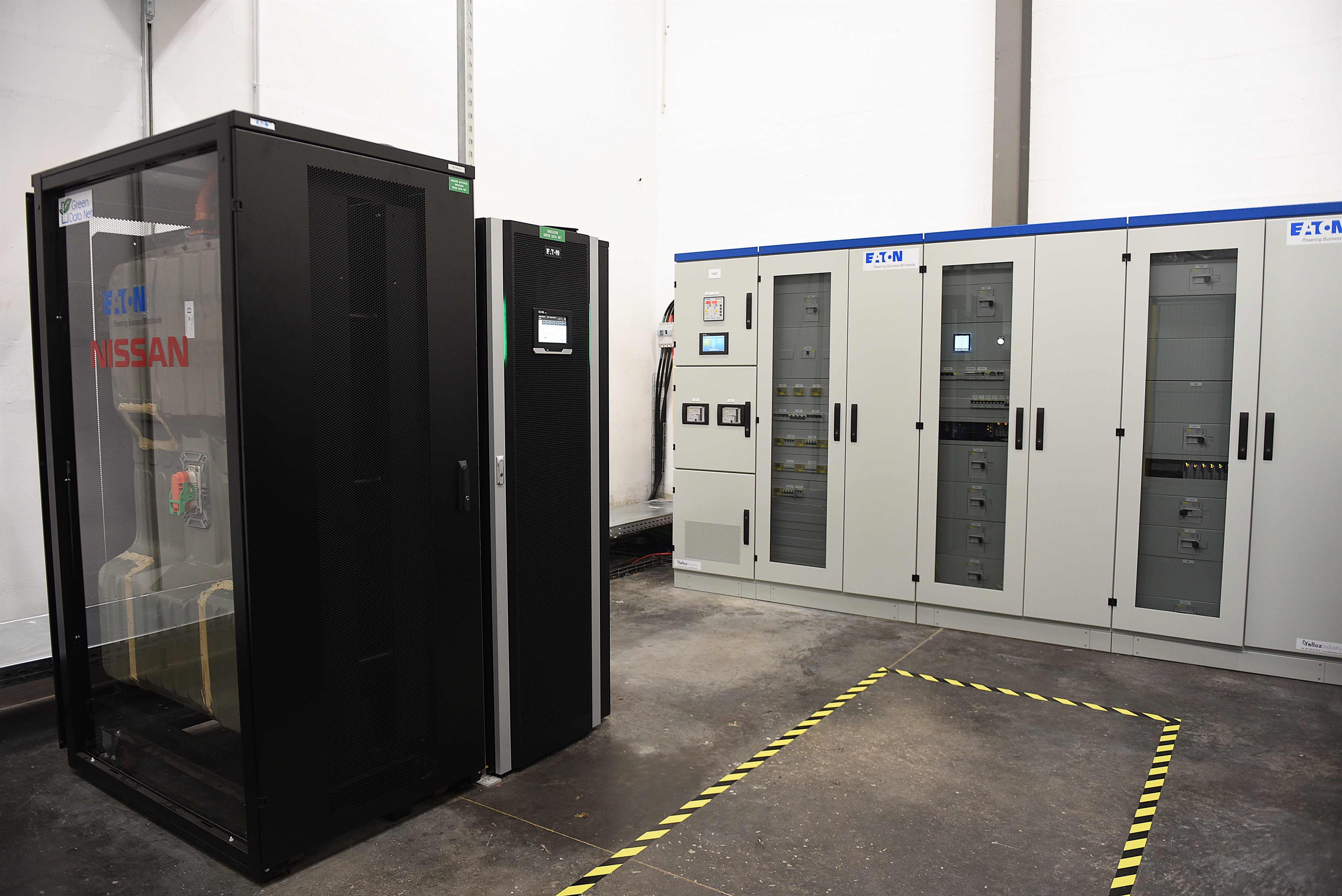 NISSAN and Eaton have joined forces to provide an innovative energy storage solution incorporating renewable energy sources for cloud and IT services hosting company Webaxys' new, 'eco-responsible' data centre based at the Saint-Romain de Colbosc Eco Park in Normandy.
The energy storage solution provides a 'second-life' for Nissan electric vehicle batteries and in combination with Eaton's leading uninterruptible power supply capabilities, provides an industrialised energy control and storage solution for managing data centres.
This innovative solution not only enables integration with local renewable sources, but allows companies to draw down from and provide energy back to the grid, ensuring stable and cost efficient energy management systems.
Data centres already make up 1.5% to 2% of worldwide electricity consumption, and this rises sharply each year. However, the energy demands of data centres, which cannot tolerate the slightest power outage, makes the application of renewable energy sources particularly difficult.
This new Eaton and Nissan energy control and storage system will mean firms like Webaxys can store energy once produced so that it can be used on demand to power the business.Gareth Dunsmore, Director of Electric Vehicles, Nissan Europe said: "This installation at Webaxys marks an important historical moment for data centres in their quest to become energy autonomous in the near future.
"By combining Nissan's expertise in vehicle design and reliable battery technology with Eaton's leadership in power quality and electronics, we hope to demonstrate that data centre energy management can be stable, sustainable and cost efficient in the near future."
As the global leader in the electric vehicle market, Nissan's EV batteries will be given a second life and will be reused within the system. This eco-responsible approach maximises the usage of these batteries before the end of their life, minimising the use of natural resources.
Read more: http://nissaninsider.co.uk/nissan-and-eaton-collaborate-energy-storage-solution/
27 juin 2016
This new milling machine can produce large aluminium battery pack from 2.5 x 1.5m x 0.6m high, covering the entire surface of a vehicle floor 1 piece
23 juin 2016
Hyundai is aiming to release an electric car with a 250-mile range by 2020, according to the company's Director of Eco-Vehicle Performance Development Group Byung Ki Ahn.
The plans were revealed in a recent interview that Ki Ahn gave to Autoblog, where he confirmed that the company would be releasing a 200-mile EV in 2018.
These two approaching electric vehicle (EV) offerings will follow Hyundai's release of the electric version of the Ioniq later this year. The all-electric version of the Ioniq will possess 110 miles of range, reportedly.
Read more: http://cleantechnica.com/2016/06/04/200-mile-electric-car-hyundai-
20 juin 2016
Volvo Cars revealed 40 series concepts demonstrate for the first time how Volvo plans to expand into the large and lucrative global market for premium small cars with a range of vehicles that combine bold exterior and interior design with industry-leading connectivity, electrification and autonomous drive technologies.
The new 40 series concept cars will be the first built around Volvo's new Compact Modular Architecture (CMA), which has been specially created for smaller cars and which has liberated the company's designers and engineers to explore bold and daring new directions.
Volvo's small car strategy is an essential element in its ongoing global operational and financial transformation. The Swedish company is currently implementing an ambitious revitalisation plan that will reposition the brand to compete with its global premium competitors within the next four years.
Volvo's 40 series small car range will include a pure battery electric vehicle as well as Twin Engine plug-in hybrid powertrain variants, in line with the company's commitment to the electrification of its entire portfolio. Volvo plans to have sold a total of up to 1 million electrified cars by 2025 globally.
read more :http://www.hybridandelectriccarnews.net/blog/2016/05/18/volvo-introduces-40-series-concept-innovation-moves-smaller-cars/
15 juin 2016
volvol 40.1 concept
Tougher emissions standards will lead to the replacement of diesels by gasoline-electric hybrids over the next decade or so, Samuelsson told Car and Driver in a recent interview.
Hybrids offer lower emissions than diesels, but Samuelsson believes they will soon cost less as well.
He said that in a few years there will be a "crossover," at which point costs for hybrid powertrains will steadily decrease, while the cost of diesel powertrains will steadily increase. That's because diesel engines will require more complex exhaust-aftertreatment systems to meet future emissions standards, Samuelsson said. Volvo does not currently sell diesel cars in the U.S., but it does offer them in Europe and will as long as there is sufficient demand, Samuelsson said.
While the Volvo CEO discussed hybrids in general, in terms of the company's near-future product plans, it will be plug-in hybrids that will directly compete with diesels for sales.
Volvo already offers a T8 "Twin Engine" plug-in hybrid version of the XC90 SUV, and will offer it on the related S90 sedan and V90 station wagon as well. All three models use the same Scalable Product Architecture (SPA) platform.
Volvo even offers a diesel plug-in hybrid version of the current V60 wagon in Europe.
2017 Volvo 90
Called the V60 Twin Engine, it will likely be replaced by a gasoline-electric version when that model is redesigned.
Volvo will also introduce a downsized T5 "Twin Engine" plug-in hybrid powertrain in a line of compact cars based off its new Compact Modular Architecture (CMA) platform.
The new powertrain includes a turbocharged three-cylinder engine and seven-speed dual-clutch transmission, working with an electric motor and lithium-ion battery pack.
Read more: http://www.greencarreports.com/news/1104303_
12 juin 2016
The Driveco Parasol is a charging station comprising 88 photovoltaic panels and lithium-ion batteries for the production and storage of solar energy. With this method, electricity can be distributed at any time, even when sunlight levels are low.
NEW DELHI: French automaker Peugeot has designed a solar energy charging station for electric vehicles for Driveco - the Driveco Parasol. Its design combines ecology and technology with a wooden framework supporting the photovoltaic panels, thus providing protective shade for vehicles while they charge.

This partnership with Driveco continues Peugeot's commitment to "zero emission" mobility, from producer to consumer, informed the carmaker in an official statement.

The open wooden structure which supports 150 sq. m of solar panels acts like a canopy, while the Parasol's splayed bases harmoniously house the charging terminals and electricity storage batteries.

The Driveco Parasol is a charging station comprising 88 photovoltaic panels and lithium-ion batteries for the production and storage of solar energy.

With this method, electricity can be distributed at any time, even when sunlight levels are low. Each Parasol is universal and can charge up to seven cars, scooters or bicycles simultaneously, 24 hours a day, seven days a week, with the charging time depending on the mode selected - rapid or normal.
Read more :http://auto.economictimes.indiatimes.com/
Read more :http://fr-media.peugeot.com/fr/peugeot/marque/peugeot-design-lab/
06 juin 2016
How the convergence of disruptive technology-driven trends could transform theauto industry
Today's economies are dramatically changing, triggered by development in emerging markets, the accelerated rise of new technologies, sustainability policies, and changing consumer preferences around ownership. Digitization and new business models have revolutionized other industries, and automotive will be no exception. For the automotive sector, these forces are giving rise to four disruptive technology-driven trends: diverse mobility, autonomous driving, electrification, and connectivity. Most industry players and experts agree that these four technology-driven trends will reinforce and accelerate one another, and there is general consensus that the industry is ripe for disruption. Yet although the widespread sentiment that game-changing disruption is already on the horizon, there is still no integrated perspective on how the automotive industry will look in 10 to 15 years as a result of these trends.
With this publication we aim to make the imminent changes more tangible. We start from the general consensus that the industry is transforming and go further to specify and quantify the magnitude of change. The forecasts in this study should, thus, be interpreted as a projection of the more probable assumptions across all four trends, based on our current understanding. The forecast methodology is certainly not deterministic in nature (Text box 1), but should help industry players better prepare for the uncertainty by discussing potential future scenarios (Text box 2). There are many tough, fundamental, or even existential questions that are looming for automakers and suppliers. Some commentators suggest these disruptions will mark the decline of the automotive industry. But in our view, growth in the personal mobility market will accelerate as new sources of recurring revenues supplement slowing growth from onetime vehicle sales.
Read more : https://www.mckinsey.de/sites/mck_files/files/automotive_revolution_perspective_towards_2030.pdf